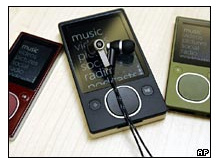 To the delight of
Microsoft Corp.
, online retailers are running short on supplies of the 80GB
Zune
model launched by the Redmond-based company on Tuesday. At
Amazon
, some customers who had preordered Zunes have been told they wont receive their order for an additional 10 days. The retailers do have the 4GB and 8GB versions of the Zunes in stock, but the 80GB model is sold out at the Amazon,
Best Buy
and
Circuit City
web stores.
The software giant said that it had prioritized the manufacture of the 4GB and 8GB Zune models, but that many more 80GB units would be on the shelves (physical and virtual) within the next 10 to 14 days. Earlier this week, blogs started reporting a rumor that the new Zunes have been hit by manufacturing delays.
"I think they were already probably a little later than they would like to be, given Apple's iPod announcement of a new line of the market-leading devices in September,"
said
Matt Rosoff
, an analyst at the independent research group Directions on Microsoft.
"They probably wanted to get anything out the door as soon as they could."
Source:
Yahoo (AP)