Users of fourteen month old video service BrightSpot.TV have been informed that the service is shutting down. The site, run by
BrightSpot Media
, asked users to watch commercials in exchange for credit towards various subscription services.
The following notice replaced the service's normal website: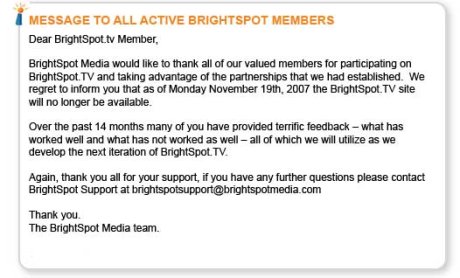 BrightSpot Media
CEO Aaron Martens blames advertisers who aren't interested in adopting new business models for the Internet age for the service's failure. In an email he said "Advertisers have been relatively slow to adopt new models when it's so clear they absolutely need to change their thinking."
BrightSpot Media
's backers include Phoenix Suns president Jerry Colangelo and Chicago Bulls and White Sox owner Jerry Reinsdorf, and has been advised in the past by
McDonald's
Chief Marketing Officer Paul Schrage. Former advertisers include
Ford Motor Company
and
McDonald's
.
According to sources within the company,
BrightSpot Media
is nearly out of money and hasn't been able to line up any additional venture capital. They're reportedly hoping to license their technology to a third party instead of relaunching the service themselves. However one has to wonder whether the problem is that advertisers aren't interested in the technology, or whether it's consumers who don't consider the payoff to be worth the time invested watching ads.
Source:
Mediaweek