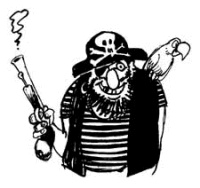 Finnish authorities have targeted the operators of so called
"top sites"
in Oulu. The
Finnish National Bureau of Investigation (NBI)
carried out raids which led to the arrests of three individuals and the seizure of computer servers carrying over ten terabytes of pirated software, music and games. The police raids follow a joint cross-industry operation by anti-piracy investigators.
The actions, launched on Friday 16th November, came as a result of criminal complaints that were originally filed by Finland's Copyright Information and Anti-Piracy Centre (CIAPC). Top sites are considered to be the very top of the piracy chain on the Internet by anti-piracy and law enforcement authorities.

"These top sites have been sharing movies, music and computer games as well as software. Each site was also specialized in sharing particular material, such as animation, Finnish movies or the newest videogames." Antti Kotilainen, CIAPC Director, said. "Top sites are the absolute top of internet piracy and their activity enables sharing of millions of illegal files."

"The Business Software Alliance applauds the efforts of the Finnish police for taking this strong and visible action against internet top sites." said John Wolfe, Director of Internet Enforcement at BSA. "Individuals like the ones operating the sites raided last Friday contribute to the staggering losses that Internet piracy causes the software industry."

Source:
Press Release