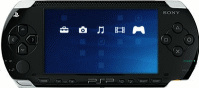 According to the magazine
MCV
,
Sony
has once again squashed the rumors that it will be launching a
PSP
phone with Sony Ericsson intended for gamers.
A Sony Europe spokesperson is quoted in the magazine as saying the following;
"We can categorically state that we are not currently working with Sony Ericsson on any form of PlayStation phone."

"We feel that [SCE co-chief operating officer] Jim Ryan has been misquoted [in saying the idea is 'definitely plausible']."

"We hold constant dialogue with Sony partners – Sony Pictures, the hardware team and Sony Ericsson – but there are no collaborations happening between us on a PSP or PlayStation phone."

"That's totally untrue – and goes for now and the foreseeable future."
The rumors have been floating around for months after patents surfaced earlier this year for a "PlayStation themed gaming-enabled mobile phone." Sony Ericsson games boss Peter Ahnegard further fueled the rumors when he stated that consumers would "see a PSP phone before Christmas".
Source:
Pocketlint