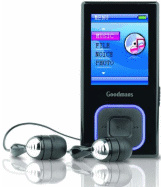 Goodmans
has launched the
GMP34G6
, a small
MP3
player with video playback capabilities. The model offers 4GB storage capacity, which the company claims is enough to accomodate 1000 MP3 or 2000
WMA
tracks and three hours of video playback. It is MP3/WMA/MTV/JPEG compatible and offers a voice recorder (recorded as ADPCM format).
Text documents (.txt extension) can also be stored and viewed on the player's 1.8-inch color screen. The slim, black player also has a microSD Card slot, added to allow users to move music from their phones to the player and vice versa. For video content, video conversion software is included in the package.
The player is available now, priced at £44.99 at Argos.
Source:
Pocket-Lint.co.uk