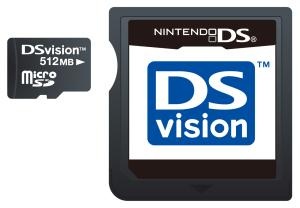 According to
Nintendo
, the Japanese market will soon be getting a full licensed
DS
cartridge that will accept
microSD
memory cards, allowing for the legal viewing of video, images, music and texts on the handheld.
The cartridge, dubbed the
DSvision
will be the same size as a normal DS game and fit into Slot-1 of the DS or DS Lite. Users will also have the ability to use a download service to download TV shows and e-books.
The DSvision will come packaged with the cartridge, a 512 MB microSD card, and a microSD-to-USB adapter for the relatively cheap price of 3,980 yen ($36 USD). There are already tons of devices like the DSvision, but none are licensed by Nintendo because they make pirating of DS games very easy.

"We are keeping a close eye on the products and studying them. But we cannot smash all of them,"
a Nintendo spokesman said, referring to the R4 and M3 cards currently sold.
To be honest however, I feel like this will just give people a legal alternative to begin pirating with but at least Nintendo will get the money for the DSvision itself. If you cant beat 'em, join 'em.
Source:
Dailytech