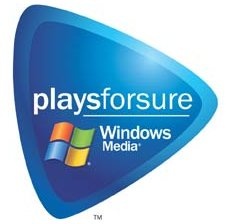 Microsoft
has decided to drop it's 'PlaysForSure' logo program, replacing it with 'Certified For Windows Vista'. PlaysForSure was used to denote music services supporting Microsoft's
DRM
to simplify matching mobile players with that used on music from online stores.
Despite the goal of simplifying DRM implementation, in reality the PlaysForSure logo didn't even guarantee compatibility between player and music since not all vendors supported both the subscription and per song applications. It wasn't helped any by the Zune team's decision not to support it with either version of
Microsoft's
own music platform.
Making things even more confusing, even though neither the DRM or the Zune has changed, both will now carry the same logo for Vista certification. Michael Gartenberg, analyst for JupiterResearch, said
"The licensing arm is only interested in spreading adoption of Microsoft technology; hence the decision to link music downloads to Windows Vista, which will eventually replace XP in the market. The Zune unit, on the other hand, wants to keep its technology closed. It goes to show how Microsoft is not always in lockstep with itself."
"(PlaysForSure) was a good idea that was poorly executed, which is why we started calling it 'PlaysForAlmostSure',"
Gartenberg said.
Source:
InformationWeek