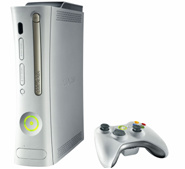 In a recent survey conducted by trade paper
MCV
which questioned 100 independent videogames shops, the
Xbox 360
consoles emerged as the favorite to win the console war.
Microsoft
's Xbox 360 was launched in 2005, a year ahead of
Nintendo
's
Wii
console and
Sony
's
PlayStation 3 (PS3)
console. On a global scale, the Xbox 360 has been seen competing with the Wii for sales (taking second place in monthly sales frequently), until recently when Sony dropped prices of its PlayStation 3 (PS3) and witnessed an impressive sales boost.
Despite the Wii console topping monthly sales figures over and over again, sometimes by a large margin, only 16% of the voters in this survey believed it could win the war. About 49% believed that the Xbox 360 had the best chances of winning, followed by a 35% vote of confidence in the PS3. Despite the confidence in the Wii being so low, 57% also said that the low stock of the Wii was the biggest disappointment for the industry in 2007.
About 22% of the respondents were unhappy with the launch performance of the PlayStation 3. As for
Halo 3
, 31% of the games retailers thought that the its launch was the high point of the entire year, just ahead of 30% who thought the continued success of the Wii was the best thing of 2007 for the industry. When voters were asked who's job in the industry they would like to have, they voted unsurprisingly strongly in favor of Bill Gates.
Source:
Reg Hardware