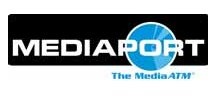 NBC Universal
(
NBCU
) is using
CES
to show off kiosks that they hope will eventually be used to distribute video directly to consumers. The kiosks are being provided by
Mediaport
, who are hoping to make NBC content available through their kiosks.
One of the biggest developments in the home video market last year was the emergence of automated technology for
DVD
rental. The most conspicous example was the overwhelming success
Redbox
had with their machines located at McDonald's restaurant locations around the country. Meanwhile provisions were being added to DVD specifications allowing encrypted discs to be burned. This has led to a number of companies working on plans to implement kiosks for on-demand DVD burning.
In addition to transferring video to simple flash drives, which is the focus of the CES presence, the
Mediaport
kiosks can be configured to burn DVDs or even load video directly to mobile media players.
"We have 500 [music kiosks] globally, and tomorrow we can enable the retailers to also handle video without any major equipment upgrade,"
said
Mediaport
president and owner John Butler.
"We are introducing the concept at CES. We can do the same things with TV and movies that are being done with music."
"I think we are aggressively looking at every way to distribute our shows,"
said George Kliavkoff,
NBCU
chief digital officer.
"Our end goal is to widely distribute them so the end user can choose the place and the time and the device to consume it."
Source:
Video Business