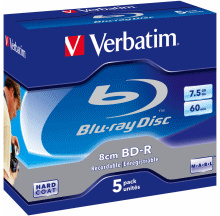 Verbatim Americas, LLC
is featuring an expanded line of
Blu-ray
writable media at the
Consumer Electronics Show (CES)
in Las Vegas. While already having 2x
BD
recordable (BD-R) and BD rewritable (BD-RE) media on the market, the company is showing 6 new BD products scheduled to begin shipping in the first half of 2008. The new products include 4x
BD-R
discs, Single-sided Double-layer (DL) 2x BD-R and
BD-RE
discs, Mini BD-R and BD-RE discs and 1-2x BD-R LTH TYPE discs.
Verbatim's 25GB BD-R 4X media allows a user to write an entire disc in approximately 23 min. The higher performance makes the 4x BD-R media suitable not only for recording personal high-definition video, but also for backing up PC data or archiving photo collections. To achieve the higher speed burning, the proprietary
Metal Ablative Recording Layer (MABL)
technology developed for the first Verbatim BD-R media has to be fine-tuned.
Verbatim will release its 25GB 4x BD-R media in Q1 2008. To meet demands for capacity, the company will release 2x BD-R DL media in Q2 2008, followed by 4x BD-R DL media later on in the year. With two recording layers on a single side, users can enjoy seamless recording of up to 50GB or about 4 hours of HD-quality video on a single disc without having to flip or change the disc.
Verbatim is also planning to release 2x BD-RE DL in 2008, but that will depend on the availability of more compatible hardware for the dual-layer rewriteable format. Not to leave out the camcorder enthusiasts, Verbatim will also offer 8cm mini Blu-ray BD-R/RE discs that offer up to 7.5GB capacity. The Mini BD-R/RW discs will be available in Q1 2008.
Last but not least, to answer the availability of LTH Type hardware and
firmware
from industry leaders such as
Sony
and
Panasonic
, Verbatim will offer 25GB BD-R LTH Type discs that feature new technically advanced organic dye in the recording layer. These discs can be burned at 1X or 2X. By switching from the more expensive inorganic layer used with current BD-R to the new organic layer, manufacturing costs can be reduced. Verbatim will release 2x BD-R LTH Type media in the Spring of 2008.
Source:
Press Release