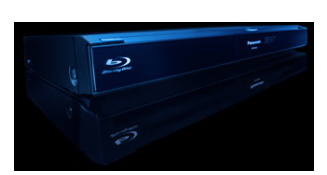 Matsushita Electric Industrial Co., Ltd
primary subsidiary
Panasonic Corporation of North America
is showing off its latest
Blu-ray
disc player. The
DMP-BD50
supports the best of what the Blu-ray format offers, including its Full HD
1080p
output. This model adds support for BD-Live, which brings web interactivity to the Blu-ray format, allowing users to download additional content.
VIERA Link
technology is also built in to this latest player, which allows the control of an entire home entertainment system using one remote. The
BD
Live feature will eventually allow users to connect the device to the Internet and download extra content such as images and subtitles, and even play in multi-player games with friends.
The DMP-BD50 employs Panasonic's
Uniphier
system, which is composed of an PHL Reference
Chroma
processor and P4HD i/p conversion processor, producing sharp, crisp, natural colors that are extremely faithful to the original movie. The player can
decode
Dolby
True HD and
DTS-HD
Master Audio for the best sound experience.
Using a feature SD card slot, a user can view content like images and videos from an SD Memory card.
"Panasonic was the first to bring a Blu-ray player with Bonus View (Final Standard Profile 1.1) to market and now with the DMP-BD50 we are again leading the industry with the inclusion of BD-Live,"
said
Gene Kelsey
, Panasonic Vice President Entertainment Group.
"The beauty of the Blu-ray player is that we can now see movies the way the film maker intended, in glorious HD video and audio. The consumer can now combine the new generation DMP-BD50 with a VIERA flat screen television to create a true living in high definition experience."
Source:
Press Release