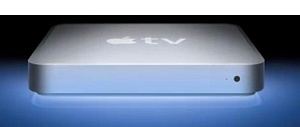 After last month's announcement that the Apple TV would see an update
, the "Take 2" upgrade
is finally available.
Users simply need to navigate to the
Settings
menu and hit
Software Update
. It will then download and install.
The new update, the first major update to the device, will offer new features such as "the ability to purchase and download video and music directly from
iTunes
instead of having to use a Mac or PC first."
The Apple TV now supports HD movie rentals through iTunes.
The new service allows users to download movies for $2.99 for SD or $4.99 USD for HD
. The videos can be played once and then expire after 24 hours.
Another new feature is access to photostreams on
Flickr
as well as on
.Mac Web Galleries
.
The upgrade is free to existing Apple TV users and is also included on all new units which now retail for $229 USD for the 40GB model or $329 USD for a 160GB version.