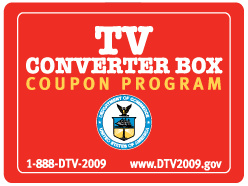 If you're one of the more than 2 million Americans who have
already applied for government vouchers
for digital to analog
DTV
converter boxes you may be getting it as early as next week, which is when the first of them will be mailed.
All U.S. households are eligible for the vouchers, which cover the first $40 of a qualifying DTV receiver. You can find the
full list of converters
in our Hardware section. Although most of the boxes are expected to cost more than $40, although satellite receiver and
DVR
manufacturer Echostar has announced they'll be
selling one model at a loss
to ensure it costs no more than the voucher's value.
Converters have already started appearing on retailers' shelves. Although the last analog TV signals aren't scheduled to be shut off for another year, you should make sure to get yours well in advance of the deadline to avoid the rush.
If you haven't applied for your vouchers yet you can pply online at http://www.dtv2009.gov or call the 24-hour hot line, 1-888-DTV-2009 (1-888-388-2009). You can also fax a coupon application to 1-877-DTV-4ME2 (1-877-388-4632) or mail one to P.O. Box 2000, Portland, OR 97208-2000. The program expires March 31, 2009.
DTV converters from AfterDawn.com hardware section
List all DTV converters