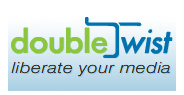 San Francisco based
doubleTwist
launched a new service today for transferring digital media between a variety of devices, including computers, portable media players, and mobile phones. The software starts with the basic information to interact with different devices. When you connect a supported media player, media player, or mobile phone to your computer, software called
doubleTwist
Desktop can retrieve whatever files you'd like, as well as transferring media files from your computer to the device.
The key to the software is the information its programmed with regarding each supported device. With so many variations on media formats it must know the capabilities and limitations of each device to ensure it's only supplying files that can be played. Likewise, it must know how to query for new media and transfer both to and from your computer. It knows so you don't have to.
Jon Lech Johansen, the company's co-founder and Chief Technical Officer, says
"We've built a format agnostic solution that handles the complexity of file and device compatibility so consumers don't have to."
You may know Johansen better as "DVD Jon," who became famous at the age of 16 for distributing the famous DeCSS code, which is used to this day in
DVD
ripping tools.
"When you receive an email, you can read it on your Blackberry, web mail, or Outlook. E-mail just works. With digital media such as video from a friend's Cell phone or your own iTunes playlists, it's a jungle out there. It can be an hour-long exercise in futility to convert files to the correct format and transfer them to your Sony PSP or your phone"
said Monique Farantzos, co-founder and CEO of
doubleTwist
.
"The digital media landscape has become a tower of Babel, alienating and frustrating consumers. Our goal is to provide a simple and well integrated solution that the average consumer can use to eliminate the headaches associated with their expanding digital universe."
Perhaps the most interesting aspects of
doubleTwist
's offering is what it lets you do with
Apple
's
DRM
protected files.
Apple
has consistently refused to allow their
FairPlay
DRM technology to be used on devices other than the ipod or software other than iTunes. However,
doubleTwist
Desktop is reportedly capable of stripping FairPlay protection from media to sync it with non-
Apple
devices.