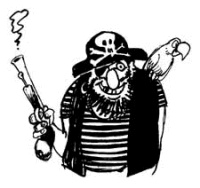 Members of the
Motion Picture Association (MPA)
have
settled an Internet piracy case
with Chinese company
Beijing Jeboo Interactive Science & Technology Co.
The five Hollywood studios had accused Jeebo of providing cybercafes with illegal copies of their movies, and responded by suing the company in Shanghai in September and December.
Jeebo was providing Internet cafes with software that allowed users to download and watch movies that were owned by the studios without approval. Twenty titles were named in the lawsuit including
Hitch
and
Pirates of the Caribbean 2
. The Hollywood studios involved are Walt Disney Pictures, 20th Century Fox, Columbia Pictures, Universal Pictures and Paramount Pictures.
The terms of the deal are confidential but the
MPA
has stated that Jeebo apologized for the activity and paid a significant amount of compensation. According to the MPA, over 90% of the DVDs sold in China are pirated.