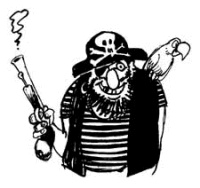 Farhat Nissa
, 35, was today sentenced to four years and six months years in prison for her role in a £5 million music counterfeiting operation, following a two-week trial. The sentence is believed to be one of the lengthiest to be handed down for commercial copyright theft in British legal history. Co-conspirators
Wasim Mir
, 37, and
Naveed Shaikh
, 38, also received prison sentences of two years and six months, and one year respectively.
The
Crown Prosecution Service
brought the prosecution after
BPI
investigations into the supply and distribution of
"mixtape"
CDs in the UK: urban music compilations that are usually recorded and sold without the permission of, or payment to, the artists or labels that released the original recordings.
The fakes, of a high enough standard to convince legitimate retailers to stock them, were spotted on sale in three London shops, Red Records and
CD
Bar in Brixton, and Disc & Dat in Walthamstow in 2005, and were withdrawn from sale after BPI investigations. Raids followed at Woolwich Market, and an industrial unit at the Lea Valley Estate where the conspirators owned a storage unit. Further fakes were seized at private premises owned by the conspirators.
"This type of fake CD can fetch significant sums, and it's wrong that none of those involved in creating the music received a penny for their work. These sentences confirm that the UK authorities take a dim view of those who line their pockets at the expense of a creative community whose work should be respected and paid for. We hope that the fps feel vindicated in taking on this case and that this successful outcome will serve as a deterrent to others,
" said BPI Director of Anti-Piracy
David Wood
, who ran the UK investigation.
---
Get regular news updates from AfterDawn.com by
subscribing to our RSS feeds
using the
Subscribe
button below. If you have been living in a cave for a few years now and don't know how to use RSS feeds, then
Click Here to read a Guide on how to use RSS (and other) feeds
.