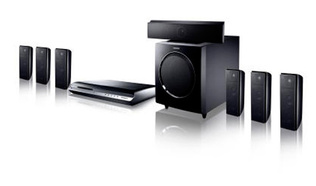 Samsung has introduced a new
Blu-ray
home theater system, the
HT-BD2S
which resembles its predecessor but has smaller satellite speakers and is available for over 30 percent less than its older cousin the BD2T's retail price of $1500 USD.
According to the source article, the head unit (the combination receiver/Blu-ray player/amplifier) is identical to its more expensive cousin's, and therefore will see the same flaws that the BD2T suffered from. The included Blu-ray player is slow loading and is limited to the old
Profile 1.0
specification. The system also has subpar connectivity options.
Still, for $1000 USD the system and the upcoming, equally priced
Panasonic
SC-BT100 are decent and cheap all-in-one Blu-ray home theater solutions and hopefully the competition will lead to better prices for consumers in the future.