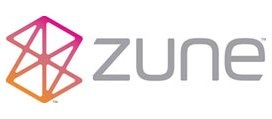 It appears
Microsoft
has chosen to compete directly with rival
Apple
's
iTunes
store by selling television shows at its own store for use with the
Zune
. Microsoft announced yesterday that it will initially begin offering more than 800 TV episodes for sale at
Zune Marketplace
and will include many popular shows currently not available on iTunes such as "The Office" and "Heroes".
NBC
shows cannot be purchased over iTunes because the two companies have failed to come to grips with each other over pricing.
The iTunes store which sells music, movies and TV shows digitally is the dominant force in this retail venue and even surpassed Wal-Mart stores as the top music retailer in the U.S. Last week, Apple increased its number of movie offerings for sale on iTunes. iTunes also allows users to rent movies as well.
Zune Marketplace joins a few other online stores in selling television shows such as
Amazon
's
Unbox
and
SanDisk
's
Fanfare
services. TV shows purchased at the Zune Marketplace can either be viewed on the Zune device itself, a computer or through the
Xbox 360
console.
NBC has said that it isn't ruling out working with iTunes as a whole. NBC Universal president J.B> Perrette said, "
We want our constant available on any storefront. We think iTunes is ultimately handicapped by not having access to our shows.
"
NBC currently is the only major network with its shows for sale at Zune Marketplace. Other cable network offerings include
Comedy Central
,
MTV,
,
Nickelodeon
and
VH1
. Each episode will cost you $1.99, the same as similar offerings on iTunes.
By selling TV episodes, the Zune "
is now at parity with Apple,
" said Zune front-man Jason Reindorp. "
This gives us a chance to stop chasing Apple and show how our strategy is different.
"