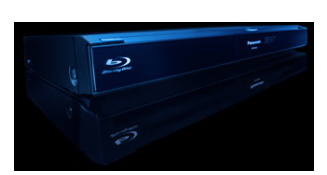 Panasonic has showed off its latest
BD-Live
capable
Blu-ray player
, the
DMP-BD50
, finally letting some specifications out of the bag. The player was first introduced at the
CES
event in January.
After demoing the latest player it is easy to see that the main distinction between the player and its predecessor the
DMP-BD30
is the addition of BD-Live. BD-Live simply means the player can handle BD movies that have Internet-enabled content, such as "interactive multiplayer games, and trailers and extra features you can download from the Internet to local storage, either in the player or on an external memory card."
The latest model however, will cost $700 USD, a $200 premium over its older cousin. In addition to BD-Live, the BD-50 adds in-unit decoding for advanced lossless audio codecs like
Dolby TrueHD
and
DTS-HD Master Audio
. The primary advantage to this is that you can choose and control the secondary audio mixing within the player. Another new feature is support for
24p
playback of upconverted standard-definition DVDs.
Of course there is a catch however. The BD50 "lacks the minimum 1GB of onboard memory required for BD-Live" and instead you will have to purchase an
SD
card to use the player's SD card slot.
The lack of sufficient on-board storage is very surprising considering the player's price tag and the fact that
Sony's
upcoming BD-Live player, the
BDP-S550
will retail for $500 USD and have 1GB on-board storage.