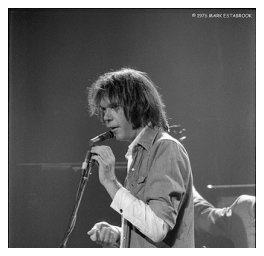 At
Sun Microsystem
's 2008 JavaONE conference, being held this week in San Francisco, one of the topics being discussed is the use of Java in
Blu-ray
movie (
BD
-MV)
authoring
. The keynote speaker on Tuesday was legendary recording artist Neil Young who talked about plans to release his long awaited "Archives" project on Blu-ray.
The project
, which will be released as a series of multi-disc box sets, will eventually include Young's entire catalog. The first installment is slated for release in the fall will include 10 discs spanning the years from 1963 to 1972, including a number of previously unreleased songs and rarities.
In addition to the ability to encode the audio in losslessly compressed 24/192 (24 bit / 192kHz) audio, he cited Blu-ray's BD-Live feature, which he plans to take advantage of by offering additional material, including any additional songs that might be turn up in the future.
"Previous technology required unacceptable quality compromises,"
he said
in a statement.
"I am glad we waited and got it right."