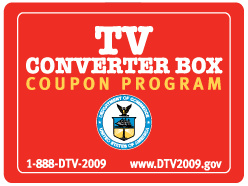 If you live in the US you're hopefully already aware of the
Digital TV (DTV) transition that will be occuring next February
. At that time nearly all analog television broadcasts will be shut off forever, replaced by
DTV
signals which require an
ATSC
tuner, and for older TVs the use of a special converter box. But if you didn't know about it, or aren't yet prepared according to a new report from the
Government Accountability Office
(
GAO
) you're not alone.
First the good news. The
GAO
indicates 84% of the public is aware of the transition. Unfortunately that knowledge doesn't equate to understanding what, if anything, they must do to prepare. Even among those who said they plan to take advantage of the government program which provides $40 voucher cards to consumers for purchasing converter boxes, only a third actually knew how to get them.
The outlook for people who don't need to worry about transition isn't much better either. The report states "Amongst those unaffected by the transition, 30 percent indicated they have plans to ready themselves for the transition—despite the fact that no action will be required to maintain television service."
This includes those with digital TVs and newer analog models with digital tuners. Subscribers to cable and satellite services will also be unaffected.
Perhaps the most troubling concern voiced in the report is the issue of low power broadcasters who won't be required to make the digital transition right away. While no numbers were given on the number of analog broadcasters expected to remain, the
GAO
cautions
"any consumers do not know the difference between full-power and low-power stations or whether the signals they receive are full or low power."
In order to continue receiving analog broadcasts consumers will need either a digital converter box that also features an analog tuner or a switch box. Currently there
Overall the outlook for TV stations themselves was generally more optomistic. The
GAO
found that the majority of broadcasters who will be required to cease analog broadcasts in 2009 already have a digital signal available, and in fact many are already broadcasting at full power.
However the report indicates that 5 percent of stations
"plan to flash cut to a digital-only broadcast."
It goes on to explain
"According to FCC, flash cutting may present challenges, since it will involve stations' ending their analog television operations and beginning their digital television operations on their current analog channel or, in some cases, will require that a station change to a new channel to be fully operational."
If all of this makes you nervous perhaps you'll take comfort in FCC Chairman Kevin Martin's faith that things will go well. In fact he's so confident that the agency won't even be
conducting a real-world test
for another three months. Hopefully everything will go better than
predicted by some experts
since it will leave less than six months to address any problems they encounter.
If you want to make sure your ready for the DTV cutover make sure to check out our
article from last Februrary
, which includes information on what you need to know and how to get converter box vouchers. You can also visit our
Hardware Section
to find out more about what converter boxes can be purchased using the vouchers.