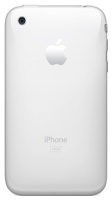 If Monday's announcement of the iPhone 3G's drastically reduced price was cause for celebration among consumers, the news from UK provider
O2
should be equally exciting for potential customers. Rather than sticking to a price of £99 for the 8GB model or £159 for 16GB, which is what customers with either a £30 or £35 per month contract will pay, customers who sign up for more expensive plans will be able to get both at even lower prices or even free.
The deal is intended for those who choose service contracts costing either £45 or £75 each month. The £45 plans will be eligible for a free 8GB iPhone 3G or £59 for its 16GB sibling. With a £75 plan even the 16GB iPhone 3G can be had for free. All of
O2
's iPhone plans have a term of 18 months and feature unlimited data on their 3G network.
"With this new pricing, iPhone 3G becomes an unbeatable proposition,"
said Ronan Dunne
, the chief executive of
O2
.
During his introduction of the new iPhone,
Apple
Chief Executive Steve Jobs admitted that a high price was
"the No 1 reason people didn't buy iPhones."
That's been particularly true in the UK and Germany where prices had already been cut in an attempt to overcome disappointing sales.
The rest of this year should be an interesting test for
Apple
's phones as they face increased competition from the smartphone market's leaders. Although lacking the high profile of the iPhone, smartphones from companies like
RIM
and
Nokia
continue to dominate the market. Other companies, including
Samsung
, are also hoping to cash in on the increased demand generated by
Apple
's aggressive marketing.