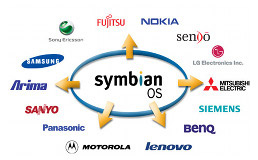 Nokia
is leading the charge among mobile phone manufacturers and service providers to make the Symbian OS the standard in mobile devices.
Nokia
, who already owned 48% of
Symbian Limited
, is buying the remaining shares and will be moving the company to a royalty-free licensing model. At the same time they're working with
AT&T
,
LG Electronics
,
Motorola
,
NTT DOCOMO
,
Samsung
,
Sony Ericsson
,
STMicroelectronics
,
Texas Instruments
and
Vodafone
to establish the
Symbian Foundation
for the development and distribution of the OS.
By getting the backing of so many industry leaders they've virutally assured their smart phone OS of choice a place in the market for the next few years. It probably doesn't hurt that it helps established companies at the expense of newer competitors like Google's Android. Being an established platform and royalty-free arguably gives them the advantage.

Although a number of companies have already licensed the OS, the only company to make much progress in actually deploying it has been Nokia. They're hoping that the establishment of the Symbian Foundation will make it easier for other manufacturers to deploy it on a large scale.

"Ten years ago, Symbian was established by far sighted players to offer an advanced open operating system and software skills to the whole mobile industry," said Nigel Clifford, CEO of Symbian. "Our vision is to become the most widely used software platform on the planet and indeed today Symbian OS leads its market by any measure. Today's announcement is a bold new step to achieve that vision by embracing a complete and proven platform, offered in an open way, designed to stimulate innovation, which is at the heart of everything we do."