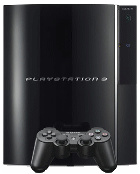 Sony
has announced the upcoming
PlayStation 3
firmware
update, version 2.40 which will hit tomorrow and will give gamers a few of their most requested features, in-game
XMB (XrossMediaBar)
and "trophies" for online gaming.
The in-game XMB will allow users to access the PS3 menu during gameplay by hitting the
PS
button on the controller. Gamers can then check if any of their friends are online, as well as change settings or send messages without having to quit playback. Less notably, the Friends list will double to allow 100 friends which should be welcomed by those who are avid PSN users.
The new
update
will also bring "trophies to recognize players' achievements in the online arena." Many games will eventually have gold, silver and bronze trophies, or platinum if you can get all three.
Sony says the first games to have trophy support are BUZZ! Quiz TV,
LittleBigPlanet
, MotorStorm™ Pacific Rift, NBA 09,
PAIN
, PixelJunk Eden,
Resistance 2
, SOCOM: U.S. Navy SEALs Confrontation and
Warhawk
.