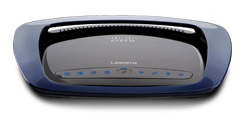 Linksys
has introduced a new wireless router designed specifically with
streaming
media mind. WRT610N is a dual band router that the company claims is better suited for streaming than others.
"There are products on the market that are framed as Dual-Band that allow access to only one band at a time or lose transmission speeds when both bands are in use,"
said Mani Dhillon, director,
Linksys
Consumer Business Organization.
"As consumers begin to use the 5GHz spectrum for their multimedia devices, it becomes more important to have access to the full capabilities of both bands."
On a typical network anything from internet downloads to print jobs can interfere with smooth streaming, which relies on a consistent level of throughput.
The WRT610N also features Wi-Fi Protected Setup, a feature available on a growing number of wireless devices that simplifies setup by allowing them to connect with relatively little user interaction. Instead they can simply push a button on the device and it will automatically negotiate a connection to the router.
Although this has a lot of potential for storage devices it's currently found primarily in access points and external wireless network adapapters. However, the
Wi-Fi Alliance
currently lists three multimedia projectors certified for the feature.
"Each day, more digital multimedia content is becoming available, and with that growth in availability comes the need to maintain the experience consumers have come to expect when enjoying a movie, watching an HDTV broadcast, or listening to their favorite music,"
said Dhillon.
"With the WRT610N, the home network can optimize the process of streaming multimedia content, and helping to make the process more user friendly than it has ever been."
The WRT610N has a suggested retail price of $199.99.