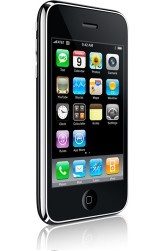 Apple
today announced that the 1 millionth iPhone 3G was sold on Sunday, making it an even hotter product than its predecessor, the original iPhone.
"iPhone 3G had a stunning opening weekend,"
said Steve Jobs,
Apple
's CEO.
"It took 74 days to sell the first one million original iPhones, so the new iPhone 3G is clearly off to a great start around the world."
The iPhone 3G is currently available in Australia, Austria, Belgium, Canada, Denmark, Finland, Germany, Hong Kong, Ireland, Italy, Japan, Mexico, Netherlands, New Zealand, Norway, Portugal, Spain, Sweden, Switzerland, UK, and the US and will be offered in France later this week.
Apple
's press release announcing the sales figures didn't mention what percentage of iPhones had been
successfully activated
.