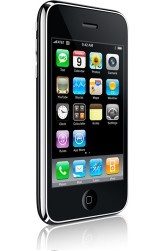 AT&T
has revealed today that they have sold twice as many
Apple iPhone 3G
units upon launch then they did a year ago with the first generation iPhone.
The carrier also noted that it had over doubled its smartphone users year-on-year since June 2007, from 8 percent to 18 percent.
Although official numbers have never been published by AT&T, the general consensus is that 270,000 first generation iPhones were sold in the opening weekend so AT&T's latest comments suggest at least 500,000 iPhone 3G units have been sold in the US by AT&T.
AT&T also
reported
that they added 1.3 million new subscribers, pushing its user base to 72.9 million, making it the largest carrier in the US over
Verizon
.