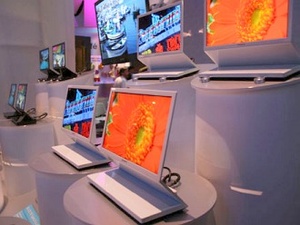 According to a Japanese press report,
Sony's
11-inch
XEL-1 OLED
TV will hit European customers in 2009, beginning in the UK.
The
Nihon Keizai Shimbun
did not include a detailed launch plan nor a price for the TV at launch. The XEL-1 went on sale in Japan in December 2007 and in the US a month later.
OLED has been touted as the flat-panel display technology of the future, mainly because it does not require a backlight, making displays extremely thin and less power consuming. OLED displays also offer richer blacks and faster refresh rates then LCD or
PDP
, making pictures more vivid and bright.
Sony
has not yet confirmed the
repor
t but did say that the XEL-1 had received a "positive reception" from its Japanese and US customers and it is considering expanding into Europe.
The one downside so far has been price. Retailing for about ¥200,000 ($1,829 USD) in Japan and $2,500 USD here in the States, consumers cannot justify purchasing such a small TV. In comparison, most 50 inch
LCD TVs
cost $1800-$3000 USD and the same for PDPs.