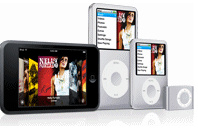 It appears very likely that new models of the popular
iPod
are in the works and that a price drop on the
iPod Touch
is imminent, putting it on
par
with the price of the
iPhone 3G
.
Inventory managers from retailer
Target
have noted that all current iPod models have now seen their status changed from "Active" to "Discontinued". Unfortunately, when using PDA scans you cannot see dates for new models so for now the date of the new models is speculation.
In the UK, retailer
Argos
has plans to clear out its remaining iPod inventory in anticipation of new models. Point-of-sale displays show price cuts beginning next week.
The new moves follow what Wall Street analysts have been saying for weeks. Many believe the Touch is now overpriced and
Apple
may lose their momentum in the media device market if changes aren't made.
"We continue to believe Apple will need to reposition the iPod touch line in conjunction with its anticipated new product announcement in early to mid-September now that the iPhone acquisition price is lower,"
said
Lehman Brothers analyst Ben Reitzes.
Piper Jaffray analyst Gene Munster who is famous for his accurate predictions on Apple products added that he expects to see a $199 USD iPod Touch as well as a refresh of all devices across the board.


"Specifically, we believe Apple will increase the capacity of the iPod shuffles as well as the iPod nanos (but maintain current price points); redesigned form factors for the shuffles and nanos are unlikely," the analyst wrote. "We believe the iPod touch may be redesigned and may enter the $199 price point, in line with the iPhone."
If you were wanting to buy that new iPod, I'd say its worth waiting a couple more weeks before pulling the trigger.