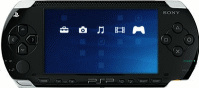 At the video game convention currently being held in
Leipzig
, Germany,
Sony
has announced a new version of its
PlayStation Portable
handheld games console. The
PlayStation Portable 3000
is set to go on sale in Europe and the United States in mid-October. The new
PSP
brings improved support for
Skype
, contains a microphone and new screen offering better, tweaked more for improved usage outdoors.
"We believe that this will establish the PSP as a viable communication device,"
said
David Reeves
, president of
Sony Computer Entertainment Europe
, referring to the new microphone which will obviously help with
Skype
. The
PSP 3000 will go on sale
for €199, compared to the current slim model which sells for €169.
At the convention, Sony also announced the upcoming release of a new
PlayStation 3 (PS3)
model that contains a 160GB hard drive, more than twice the capacity that comes with current PS3 models. The new 160GB PS3 will go on sale for €449 in late-October.