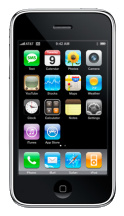 Apple Inc.
's
iPhone 3G
is being introduced to the emerging and rapidly growing Indian economy, with a very high price tag attached.
Vodafone Essar
will sell the 8GB model of the iPhone 3G in the country for as much as 31,000 rupees, about USD$708. The device will also be available from Vodafone Essar's largest rival in the Indian market,
Bharti Airtel
.
Both operators will make the phones available to consumers this Friday. Vodafone Essar will offer the 16GB version of the iPhone 3G for 36,100 rupees, about USD$824. In comparison, you can get an iPhone 3G in the United States for as little as $199 based on the circumstances.
Bharti Airtel will
announce its price for the new iPhone model soon
, according to a company spokesman. Apple just released a software update addressing problems with reception, dropped calls and other issues being reported from around the world.