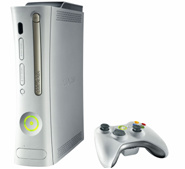 Microsoft Corp.
's
Xbox 360
console has sold in out Japan. The console has performed terribly in the region compared to its competitors; the
Sony PlayStation 3 (PS3)
and the
Nintendo Wii
. Due to the interest in the
Tales of Vesperia
game title, Microsoft had an impressive week in sales, moving 25,000 units.
"Currently, the Xbox 360 is sold out, and retailers are unable to restock their supply,"
Microsoft Japan said in a statement
.
"This is a result of our own sales targets being exceeded by the actual customer sales. We deeply apologize for this inconvenience to our customers, retailers and business partners."
While the Xbox 360 has already outperformed its predecessor in Japan, it is only recently that sales of the console have begun to pick up, due to a select of
JRPG
releases. The original Xbox didn't sell through its original shipment in Japan. Microsoft seems genuinely unprepared for the growth in sales, and can only promise to get a new shipment to the country next month.