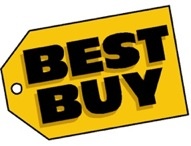 After
announcing last month
that it would be the first retailer to sell the popular
Apple iPhone
, the chain has finally begun doing so, offering the iPhone 3G in 970 stores and 16 Best Buy Mobile stores.
The move marks the first time the phone has been available in the US outside of Apple's or AT&T's own stores.
To quote the original
release
:
"We had a lot of work to do, obviously, to get in a position where Apple and AT&T would feel good about Best Buy Mobile carrying it, and that's what we've done in the last 18 months," said Shawn Score, president of Best Buy Mobile.

Apple spokesperson Natalie Kerris added that because of the company's good standing relationship (the retailer sells Macs and iPods as well), Best Buy can now sell the iPhone as well.

Just last week Best Buy announced that it had finished its conversion of in-store cell phone departments to the "Best Buy Mobile" brand. Computers were upgraded to handle cell-phone activation and employees received 250,000 hours of extra training.

Score added that the Best Buy Mobile brand was a joint venture with CarPhone Warehouse Group, which is Europe's largest cell-phone retailer.

The 970 new stores with iPhone availability are in addition to the 2,050 AT&T stores and Apple's 190 stores.