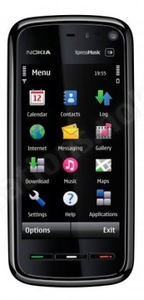 Although
Nokia
continues to struggle for market share in the US, sales overseas continue to grow and today the handset maker announced the launch of the
Nokia XpressMusic 5800
, nicknamed "the Tube", in what should be their largest release of the year.
The 5800 launches alongside the release of Nokia's "Comes with Music" unlimited music download service and uses a Symbian S60 interface that Nokia has been demoing since last year.
The device is touchscreen and can be considered more of music player than a phone. Its dual speakers face outwards and there is a 3.5mm headphone jack, two features not found on many phones. Also included are 81 MB of on-board memory and a large 8GB
microSD
card as well as a guitar pick stylus.
Music playback includes protected
WMA
,
MP3
,
AAC
and there is word that the phone can use
Windows Media Player
11 as its on-board player.
According to the
source
the XpressMusic 5800 includes "quad-band
GSM
(regional variants will support different 3G standards), 802.11b/g,
GPS
, a forward-facing 3.2 megapixel camera with flash and 30
fps
video recording as well as a second backward-facing camera. The screen measures in at 3.2" with a 640 x 360
resolution
."