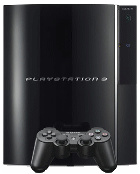 Despite overall bad numbers for the Q2,
Sony's
gaming division, dubbed the
PlayStation
division, cut its operating loss, year-on-year, and increased revenue over 10 percent.
The division still saw a $405 million USD loss for the three months ending September 31st, a huge improvement over the $1 billion USD loss they posted the same quarter last year.
Sales rose from $2.5 billion USD in 2007 to $2.76 billion USD this year, a 10 percent increase.
The revenue boost was attributed to rising sales of both the
PlayStation 3
and the handheld
PSP
.
Sony
sold 2.43 million PS3 units for the period, up from 1.12 million for the same period year. The
PSP
sold 3.18 million units and the aging
PlayStation 2
sold 2.5 million units.
For the period, the PS3 outsold its main rival the
Xbox 360
by 230,000 units, as Microsoft announced last week that they had sold 2.2 million consoles during the period.
Sony also said it expects to hit 17 million PS3 sales sometime within the next month.