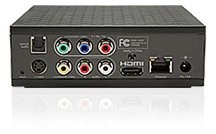 Roku
representatives have posted on the official Roku message boards that they will be partnering with
Netflix
again to deliver
HD
content to subscribers of the rental company before the end of the year.
Differentiating from the recent Microsoft-Netflix deal, Roku will "use different Advanced Profile encoding to deliver the HD content at significantly lower bit-rates."
The
official post
on the forum says the following:


Roku will be delivering Netflix in HD by the end of the year
- Roku will be using Advanced Profile encodes which will deliver HD at substantially lower bit-rates than what Xbox is offering
- The number of titles is up to Netflix but the library will be the same as or larger than the Xbox library
- The UI will be updated to run in 720p and more covers will be visible on the screen at a time
- And the release will include another major new feature that you'll have to wait a bit longer to learn about.