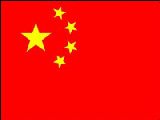 Chinese Internet censorship is hardly something new, but lately it seems the country has targeted
BitTorrent
sites. Last week, users in China reported that popular
BitTorrent
sites such as
Mininova
,
Pirate Bay
and
isoHunt
were redirecting to Chinese search site
Baidu.com
. China recently started to ban 10 video sharing sites for
"regulations violations"
and the eDonkey indexing site
VeryCD
received warnings shortly before being re-directed to Baidu.com.
The domain hijacks continued for a few days until they were seemingly lifted. Official explanation for the outage is a
"DNS error"
, yet that is very improbable as it seemed to affect the
P2P
sites exclusively which are hosted all across the world. DNS errors wouldn't explain why they were all linked to another (the same) site either.
Of course, its far more likely that the block was intentional. The only question is whether it was because of piracy or because of some content that could be gotten from any of the sites was specifically targeted by the government.