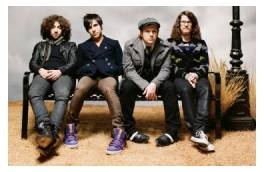 Perhaps the biggest loss in the transition from physical media to downloaded music is the extras packaged with CDs. Just as the transition from records to cassette tapes and CDs meant the end of some types of content that didn't work in the smaller medium, the movement to
CD
means the elimination of much of it entirely. Some people who miss this extra content would like to see someone find a replacement.
The band Fall Out Boy and their label,
Island Records
, think they've come up with something that fits the bill. They've updated the idea of liner notes and produced an iPhone application that will be offered through the
iTunes
App Store prior to the release of their new album, "Folie a Deux," due to be available on December 16.
The application
will include
a web-like interface that provides interactive liner notes including photos and lyrics from the upcoming album as well as past releases. And of course there will also be links to buy their music from
iTunes
. The band will also be able to provide future updates like social networking features to keep fans in touch with the band and even help them find each other via the iPhone 3G's built in
GPS
.
But don't expect this kind of application to suddenly appear for every artist, or even the majority.
"We can't do for everybody what we're doing for Fall Out Boy,"
said Island Def Jam senior VP of new media and commerce Christian Jorg.
"This is an artist we think has the right target demo, we know the iPhone is successful with that demo and has great capabilities, and we'd like to put a product out there that speaks to that demo."