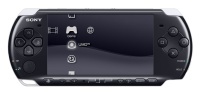 Sony Europe
has sued the UK-based company
Datel
over an accessory that allows gamers to run pirated games and
homebrew
software on their PSP-3000.
Unlike previous hardware models, the PSP-3000 has been harder to crack and Datel began advertising the
Lite Blue Tool
last month which is a battery-attached way to open the
PSP
up to homebrew.
The accessory has not been released yet, and Datel
noted
"that orders for the Lite Blue Tool could not be fulfilled due to legal action by Sony Computer Entertainment Europe".
Sony added however, that
PSP
hacking has been 'trending downwards' since the release of the 3000 model late last year.