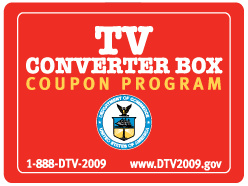 The senators involved with the upcoming mandatory transition to
Digital TV
signals from analog signals in the US have agreed to a bill that would delay the transition to June 12th from February 17th. The legislation will go to vote next week, with some expecting as early as Monday.
The delay will give the Commerce Committee more time to get funds for coupons for converter boxes that allow analog signal users to receive digital broadcasts, free of charge.
The postponement has the backing of new President Barack Obama after it was concluded most consumers are still not prepared despite, literally, years of television ads from the government and cable companies looking to get new subscribers.

"The shameful truth is that we are not poised to do this transition right,"
added
Sen. John D. Rockefeller (D-W.Va.), chairman of the Commerce Committee,
"We are only weeks away from doing it dreadfully wrong -- and leaving consumers with the consequences."
The National Telecommunications and Information Administration, the group in charge of the coupons, says they have exceeded their $1.34 billion USD funding limit. 3 million Americans remain on waiting lists for the coupons.