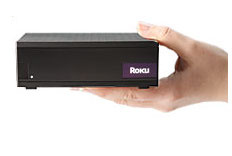 Less than a year ago very few people had heard of a Saratoga, California company called
Roku
. Then they released the first ever set-top box to stream movies from Netflix directly to your TV and started a revolution. Since then
Netflix
has established partnerships to get their client
on Blu-ray players
,
DVRs
,
game consoles
, and
even HDTVs
. You might think all this competition spells trouble for a product like the
Roku
box that "only" plays video. Based on the overwhelming interest in
Roku
's Amazon VOD beta shows, you'd probably be wrong.
Shortly after they started accepting requests to join the beta for
Amazon VOD
on the
Roku
Digital Video Player all their slots were filled. And why not? If you already have the
Roku
box and use it for
Netflix
why wouldn't you want to move to VOD rentals. The
Netflix
Watch Instantly service is nice, but it doesn't offer new releases.
In fact even
Netflix
CEO Reed Hastings is excited about the idea. During his company's
recent earnings call
for the last quarter of 2008 he downplayed the suggestion that
Roku
's deal for Amazon VOD support would mean increased competition. In fact he welcomed this development, noting that
Netflix
has no plans to enter the VOD space and no access to new releases. Instead he focused on the value this adds to the
Roku
set-top box, which of course means more consumers with a
Netflix
client connected to their TVs.
With the introduction
of an SDK
later this year the future looks bright for
Roku
. By avoiding exclusive licenses with particular online video providers they've set themselves up to succeed regardless of what happens to
Netflix
, Amazon, or any other company. And that's the best news of all for consumers.
If you missed out on the Amazon VOD beta, or just wanted to wait until
Roku
has the bugs worked out, it's supposed to be available sometime in the next 2 months.