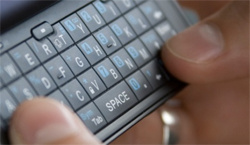 A 14-year-old girl from Wisconsin has been arrested and charged with disorderly conduct. Her crime? Repeatedly text-messaging during class time at school.
The police report also notes that the girl continually denied that she even had a phone on her person when asked to stop texting in class.
The school then called the police authorities and the officer who responded questioned the girl and interviewed her friends. When the officer tried to contact the girl's parents,
"She gave me several numbers all being false by one or two digits wrong. [Redacted] stated I was dialing the wrong numbers so On [sic] speaker phone I dialed the number she gave me and spoke with a subject who stated I had the wrong number."
The girl continued to deny she had a phone until a female officer was called in to search the teen. A
Samsung Cricket
was found stuffed down the back of the girl's pants.
A court hearing is set for April 20th.