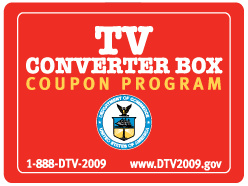 In December we reported that
Digital TV converter coupons were running out
and many remained on waiting lists with no other recourse.
The
National Telecommunications and Information Administration (NTIA)
has announced today that any household on the waiting list should have their coupon in two and a half weeks.

"The backlog should be done 2.5 weeks from today,"
noted
Bernadette McGuire-Rivera, an associate administrator at NTIA.
The recent economic stimulus package allotted an extra $650 million USD for the converter box program including $90 million USD for outreach and education.
As of a month ago, there were 1.8 million households still waiting for a coupon, said the FCC.
With the new money and new procedures, the NTIA should be able to send out 1 million coupons were week, added McGuire-Rivera.