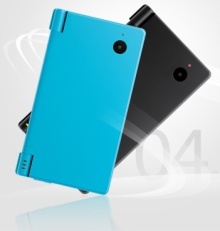 According to
Nintendo UK
general manager David Yarnton, the company will most likely
phase
out the
DS Lite
handheld if the upcoming
DSi
'thrives.'
Yarnton would not commit the company to any such plans, but did note that if enough buyers purchased the updated handheld, the
DS
Lite would most likely be discontinued, just like its fatter brother, the original DS, was.

"We'll let the market decide,"
he said.
"We expect some people will upgrade, but we also anticipate that we'll win over people who were still undecided on DS -- the extra features will help convince them. There's an extra incentive."

The DSi is slated for an April 3rd
release date in Europe
followed by a
North American release two days later.
The system will cost $169.99 USD in North America and will cost around GBP 149 in Europe, both 50 dollar premiums over the current model, the DS Lite.