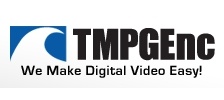 Pegasys, the company that sells the popular TMPGEnc line of products, is offering a discount on their latest authoring suite. TMPGEnc Authoring Works 4 features DVD, Blu-ray, DivX and DivX Ultra authoring.
If you already own a competitor's DVD or Blu-Ray authoring software you may be eligible to receive a $20 Amazon.com gift card with a purchase of the full version of TMPGEnc Authoring Works 4 from the Pegasys online store.
The offer is only good for owners of box products. If you downloaded the competitor's software it's not eligible for this competitive upgrade offer.
See the
Pegasys website
for more details.