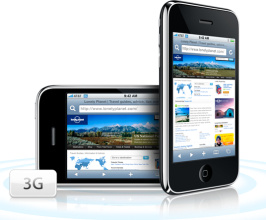 Apple unveiled the first beta of the next version of the iPhone and iPod Touch OS. It's currently available to registered developers, and scheduled to be released to consumers this summer.
"The new iPhone OS 3.0 is a major software release packed with incredible new features and innovations for iPhone customers and developers alike. It will keep us years ahead of the competition,"
said Philip Schiller, Apple's senior vice president of Worldwide Product Marketing.
In addition to the Copy and Paste feature
mentioned recently
by Digg's Kevin Rose , new features will include expanded search capabilities, landscape view for Mail, Text, and Notes, and Bluetooth networking capabilities.
As with
version 2
of the OS, version 3 will be a free upgrade for iPhone owners but cost $9.95 to upgrade an iPod Touch.
If the
server problems
last year, when the new iPhone and OS
were released
, and the year before, when the
iPhone debuted
, are any indication, it's probably a good idea not to plan on updating for at least a day or two.