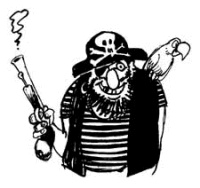 German officials have taken down a private
BitTorrent
tracker
this week, adding that they raided three apartments and confiscating multiple PCs, HDDs, DVDs, CDs and cash.
The authorities, along with the German anti-piracy organization GVU, added: "Members of the file sharing networks were able to buy download packages for up to 75 Euros. Users who paid 100 Euros or more received special privileges."

P2Pblog makes a quick note however of the bust, and it seems it is a giant waste of taxpayer money and time. The tracker only listed 300 torrents, and in comparison, The Pirate Bay currently has close to 2 million listed torrents. One could argue that TPB is a public tracker and cannot be compared, but most large private trackers have 15000 torrents available at any given time, a giant number compared to the lowly 300.

The press picked up on the story and stretched the facts a bit however to make it look like a great victory for the GVU. Spiegel.de reported that the tracker was a "so called paytracker, meaning a file sharing server that only provided access to paying users." That was not true, as users could download for free, but faced extended waiting times until their ratio was high enough.