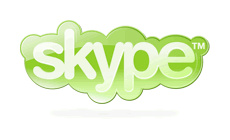 According to a report on
GigaOM
,
Skype
may be launching a mobile version of its VoIP service for
iPhones
as soon as next week.
Skype
is currently available on the iPhone, but not officially, as you must use third-party applications to access the service. The report speculates that the official
Skype
application could be coming as soon as the CTIA Wireless trade that starts on April 1st.
In January, the company
introduced Skype for Android phones
, and
Skype
Lite currently works on Windows Mobile and Java devices.
Is mobile VoIP really worth it though? Liane Cassavoy of PC World would say it isn't, and adds:

"Most notably, the call quality remains iffy at best, and in some instances it's absolutely abominable. Also, depending on your calling habits, you may not see any savings at all. Most services still charge a per-minute rate, so you'll save on domestic calls only if you've exceeded your regular voice plan's allotment (in which case you might still be better off upgrading your voice plan)."
She does note however, that for international callers, the savings are tremendous.