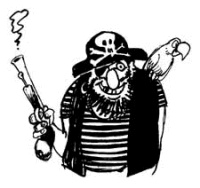 Last October, New Zealand adopted a '3 Strikes' law for pirates, meaning alleged pirates are given two warnings before having their Internet shut off.
The bill, reads as follows:


Internet service provider must have policy for terminating accounts of repeat infringers
(1) An Internet service provider must adopt and reasonably implement a policy that provides for termination, in appropriate circumstances, of the account with that Internet service provider of a repeat infringer.
(2) In subsection (1), repeat infringer means a person who repeatedly infringes the copyright in a work by using 1 or more of the Internet services of the Internet service provider to do a restricted act without the consent of the copyright owner.
This week however, the New Zealand parliament has agreed to "reconsider" the bill before it goes into effect at the end of the month.
Adds Danny O'Brien, the international outreach coordinator at the
Electronic Frontier Foundation
(
EFF
):
"One of the things about the Digital Millennium Copyright Act is that it's got these rather strong enforcement mechanisms, but U.S. copyright actually has quite a lot of room for maneuvering for normal users. In the U.S., it was assumed that repeat infringers would be people who are tried in the court of law. And in New Zealand, though similar language was transposed, that was not the way it was read. The outcry has been so great that the New Zealand government has said, 'Look, we're not going to enforce this, so we're going to go back and rewrite the law.'"
We will keep you updated.