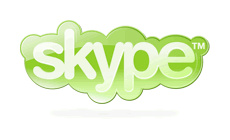 Last week
Skype
officially released their Skype for iPhone application
and
Apple
says it had been downloaded over one million times in its first 48 hours of availability.
Of note, and of criticism, is the fact that users can only use the application through Wi-Fi, not through cell 3G or EDGE networks. That restriction has been called anti-competitive, and now the Internet advocacy group
Free Press
has asked the
FCC
to investigate whether the restriction is illegal.
The
public letter
uses the FCC's own words in citing the
Internet Policy Statement
which says
"consumers are entitled to run applications and use services of their choice" in order to "preserve and promote the open and interconnected nature of the public Internet."
Jim Cicconi,
AT&T's
top public policy executive, spoke about the allegations, saying the company has "every right not" to promote services of a rival.

"We absolutely expect our vendors...not to facilitate the services of our competitors,"
he noted.

"Skype is a competitor, just like Verizon or Sprint or T-Mobile,"
he added,
"Skype has no obligation to market AT&T services. Why should the reverse be true?"